Rental of tourist and business accommodation
You can book the same type of apartment several times by adding it again to your basket.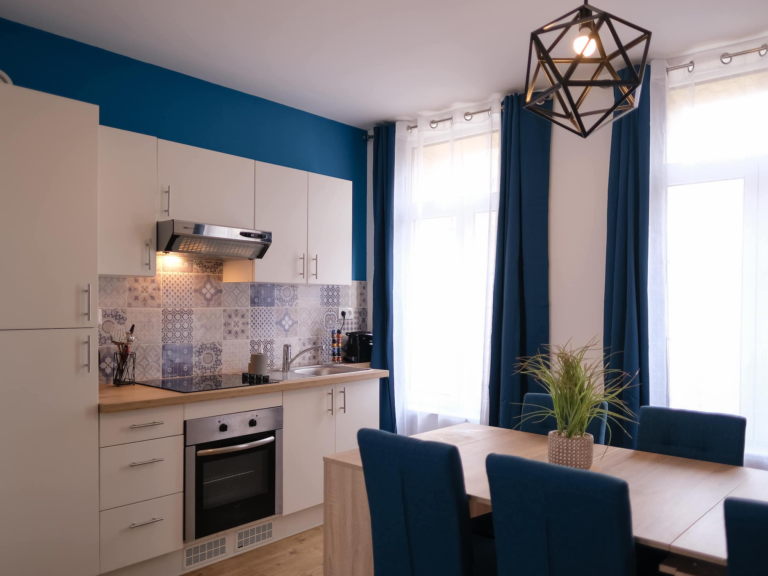 I stayed again in one of the flats, which was tastefully decorated, spacious, very clean and had all the services I needed. Special mention to the quality of the customer service and its responsiveness. I'll be back again. Thank you very much.
Elodie Testelin
12/09/2023
Professional delivery, just like home. Top quality/price ratio and layout!
Very clean, neat and tastefully decorated flat. Everything is there to make your stay a pleasant one and all the essentials are there, which I think is great. Thank you also for your time when we spoke and thank you for the little touches you left us. It was a pleasure. I wish you all the best, I recommend +++, we'll be back without hesitation, a wonderful discovery. Ps: well located place, you can visit, eat and have a drink with feet with some to put of housing.
Oceane Imbrasse
08/09/2023
Very clean and pleasant.
The apartment is beautifully decorated and very well equipped. It was really easy to find and the instructions for self check in were really clear. The centre of Saint-Omer is within walking distance and has many shops, bars, restaurants and supermarkets. We did not realise when we booked here that apartment 1 has access to a Jacuzzi! What a treat! And we were even supplied with a small bottle of Champagne. Thank you so very much.
My family stay went perfectly 🙂 , flat very well located in the city centre, close to the Coupole and Dennlys park, well equipped with beautiful decorations and little touches that are a pleasure (cakes, sweets, coffee, board games ...) Clean accommodation and very friendly and accessible phone. Thank you for everything
Laurence Seigneur
25/07/2023
Warm, clean accommodation. Quiet neighbourhood 10 minutes from the centre, where there is a large municipal park. Toiletries (shower gel) and cleaning products (sponge, washing-up liquid, dishwasher tablet) as well as salt, pepper, oil, vinegar and coffee pods provided. Very good experience
We spent a superb weekend in 2 apartments that we found magnificent 🤩 . Apart from the small tablecloth that I missed so as not to damage the table everything was perfect 🥰 . The communication was perfect. What more can I say except that I'd like to come back for sure 😉.
Great place. Calm and in good location.
For nearly ten years, Apart'Moment has been providing accommodation for its guests so that they can " live a moment apart " . The apartments are modern, practical and friendly. The accommodation has been designed to welcome families, friends, couples and professionals. To achieve this, we have equipped each apartment with high-quality bedding, fully-equipped kitchens, free Wi-Fi and Netflix access, parking spaces in a private, secure car park and, above all, an independent entry system.At Apart'Moment, our goal is to make you feel "at home". That's why all our accommodation has a self-contained entry system so you can access your apartment at any time, which is the essence of the Apart'Moment concept.